EIGHT DETECTIVES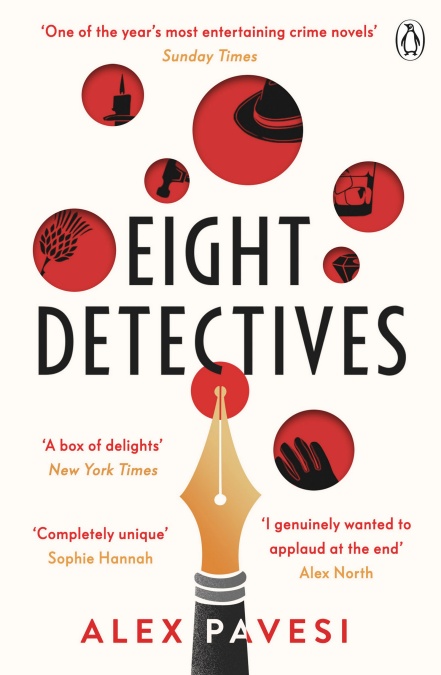 Eight Detectives was published in the UK on 20th August 2020 by Michael Joseph, and in the USA on 4th August 2020 (as The Eighth Detective) by Henry Holt. It is also available in several translated editions, with more forthcoming.
It won Debut Book of the Year at the Capital Crime Readers Awards and has been long-listed for the Barry Award for Best First Novel and the Goldsboro Books Glass Bell Award.
It was selected as an Indie Next pick for August 2020, one of the Amazon.com Best Books of the Year, the Crime Book of the Month in the Sunday Times and was named a top-ten Thriller of the Year in the New York Times.
The paperback edition will be published in the UK on the 5th August 2021.
And the two men agreed: once tasted, detection was like a drug.

Eight Detectives
All murder mysteries follow a simple set of rules. There must be two or more suspects. One or more victims. Eventually, one of the suspects must be revealed as the killer…
In the 1930s, Grant McAllister, a mathematics professor turned author, worked out these rules, illustrating his ideas with a collection of crime stories.
Then Grant disappeared.
Julia Hart has finally tracked him down. An editor for a prestigious London publisher, she has some questions about his work. And she wants to know why he stopped writing.
But she'll soon find out that some stories are best left untold.
Inspired guesswork is all that most fictional detectives do. And seen in that light, there's something fundamentally dishonest about the detective character. Don't you think?

Eight Detectives
Praise for Eight Detectives: Terrific… One of the year's most entertaining crime novels (Sunday Times) Dizzying, dazzling (A J Finn, author of The Woman in the Window) So, so clever (Sarah Pinborough, author of Behind Her Eyes) One of the most innovative mysteries in recent memory (Wall Street Journal) An elegantly structured, intellectually challenging and completely unique thriller (Sophie Hannah, author of The Killings at Kingfisher Hill) A wonderfully tricksy debut and a loving tribute to the golden age of crime fiction (Mail on Sunday) Compelling, clever, and beautifully-constructed. I genuinely wanted to applaud at the end (Alex North, author of The Whisper Man) A box of delights . . . Pavesi's revelations are completely unexpected, right up to the end (New York Times) An absolute triumph of a novel (Ali Land, author of Good Me, Bad Me) This super-smart homage to the Agatha Christie tradition is a must. Stylish, ingenious and great fun (Sunday Mirror)
Here are some of the international covers:
Taiwan

Japan

Serbia

Brazil

Russia